Every year we have a unique opportunity to give praise to our top employees and physicians by giving out awards during the hospital's annual Employee Christmas Party. This year the awards included the Employee of the Year and We C.A.R.E. Awards, the 7th Annual Philip Rogers Awards, Service Award recognition for employees who have served 30+ years at the hospital. We are very excited to announce the winners below that were awarded on December 7th. Enjoy.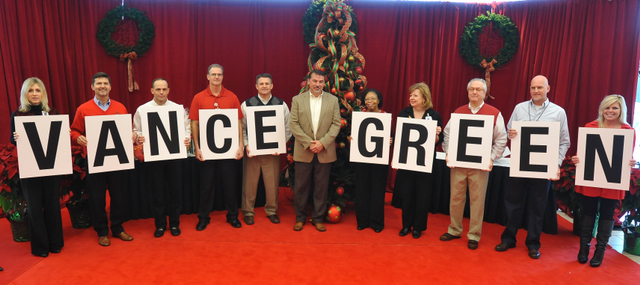 Employee of the Year — Vance Green.
Forrest General is pleased to announce that Vance Green has been selected as the hospital's Employee of the Year for 2012. Green, who serves as Assistant Director of Information Services, has worked at the hospital since 1984. According to Rick Golladay, Forrest General Director of Information Services, "Vance cares about each patient and the care that they receive. He takes personal responsibility for the care provided, based on the use of the network and computers at Forrest General. Vance is the type of friend and boss that everyone wants to have, and he is the type of person that everyone wants to be more like. Vance lives the We C.A.R.E. philosophy!"
We C.A.R.E. Awards —
Four Forrest General employees and one physician were honored with We C.A.R.E. Awards for upholding the hospital's We C.A.R.E. philosophy. The winners were selected based on comments from patients, patients' family members and co-workers. The four employees were recognized for specific letters in the acronym of Forrest General's We C.A.R.E. philosophy.
This year's We C.A.R. E. winners are: 
C — Rachel Spillman, 9T Unit Secretary
A — Samuel Rosa, Pine Grove Licensed Clinical Therapist & Patient Advocate
R — Gloria Thompson, catering hostess for Food & Nutrition Services
E — Cerena Johnson-Smith, Registration Call Center
And the We C.A.R.E. Physician Award recipient is — John Holland, M.D. ,OB-GYN
7th Annual Philip Rogers Quality Award —
The award is named for Dr. Philip Rogers, a nephrologist with Hattiesburg Clinic, who dedicated 32 years of his life to serving the people of South Mississippi as a physician, mentor and humanitarian.  This year's four recipients, who are each influential and important members of Hattiesburg's medical community, are:
Leadership Award– Melita Miller, RN, Director of Home Care & Hospice
Humanitarian Award– The Nurses of 6T South/Neurosurgery
Mentor Award– Bill Peters, M.D.
Innovator Award– Cathy Blythe, RN, Infection Preventionist
Stay tuned for more posts, news and photographs about Forrest General Hospital. We are excited to share these awards with you and give credit where it is due. Check us out on Facebook or you can even follow us on Twitter for more news and updates.