Congratulations to Kristen Scianna and Christopher Sentell, the lucky couple chosen as winners of the 3rd annual Dream Wedding Giveaway! They will win a prize valued at $16,000 including all the services needed to create the wedding of their dreams! A big thanks to Canebrake Country Club for assisting us with the prizes.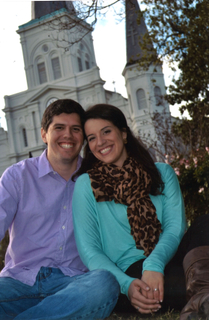 Want to learn a little more about the winning couple? Read a little more about their story below:
"As music to this country girl's ears I once heard the phrase, "If you want to hear God laugh, tell him your plans," blare through the car radio. No phrase has ever been more true. Four years ago, I would have never dreamed that the 'cute boy' in my college friend's family photo would be my now husband-to-be. But looking back now, I knew it was something special. After our first meeting, we went to Sunday church together. It was then that he asked me out on our first date. From this moment until he got down on one knee in front of St. Louis Cathedral, it has been a blessed journey.
            While we both realize that we can only plan so much in life, that does not stop us from following our dreams. We are both currently juggling employment and education; Christopher is studying hard in nursing school while also working in the Emergency Room and I am preparing for medical school while caring for patients in the Intensive Care Unit. Our schedules are exhausting, but there are no words to describe the reward we feel after helping others when they need us the most. This is why we chase the dream: to live a life together of full service to both God and neighbor."
For more information about Dream Wedding and the Spirit of Women, visit ForrestGeneral.com or check us out on Facebook, Twitter, and Pinterest!!