It's time again for the Forrest General Wellness Recipe of the Month!! We wanted to share with you a healthy and fun alternative to your "everyday" drinking water. If you missed our last blog about the benefits of Proper Water Intake, you should definitely check it out! Since we all need to be drinking more water, here is some great recipes to spice it up!!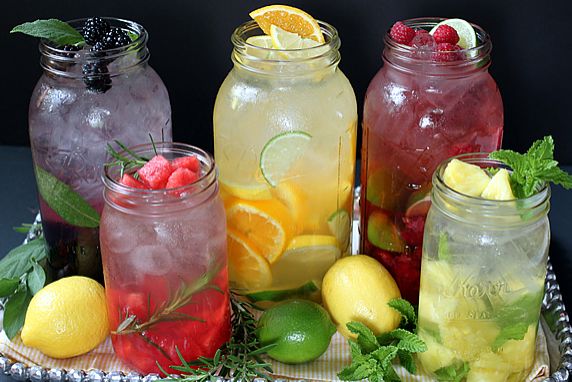 INGREDIENTS:
Servings: 6-8 servings
Source: TheYummyLife.com

■ Fruit: 2 cups of Fruit: Berries, Citrus, Melons, Pineapple…most fruits will work (see recommended amounts in directions)
■ Herbs: A sprig of mint, basil, sage, rosemary, tarragon, thyme, or lavender
■ Water (Tap or Filtered)
■ Ice 

DIRECTIONS:
Supplies needed: 2 quart pitcher or jar with lid; muddle or wooden spoon
General formula for whatever fruit/herb combo you desire:
1. If using herbs, add a sprig of fresh herbs to jar/ pitcher; press and twist with muddler or handle of wooden spoon to bruise leaves and release flavor; don't pulverize the herbs into bits.
2. Add approx. 2 cups of fruit to jar/pitcher; press and twist with muddler or handle of wooden spoon, just enough to release some of the juices.
3. Fill jar/pitcher with ice cubes.
4. Add water to top of jar/pitcher.
5. Cover and refrigerate for up to 3 days.
SUGGESTED FLAVOR COMBINATIONS
■ ALL CITRUS (no herbs): Slice 1 orange, 1 lime, 1 lemon into rounds, then cut the rounds in half. Add to jar and proceed with muddling, add ice & water.
■ RASPBERRY LIME (no herbs): Quarter 2 limes; with your hands, squeeze the juice into the jar, then throw in the squeezed lime quarters. Add 2 cups raspberries. Muddle, add ice & water.
■ PINEAPPLE MINT: Add a sprig of mint to the jar (throw in the whole sprig or, remove the leaves). Muddle the mint. Add 2 cups pineapple pieces, muddle, add ice & water.
■ BLACKBERRY SAGE: Add sage sprig to jar and muddle. Add 2 cups blackberries; muddle, add ice & water.
■ WATERMELON ROSEMARY: Add rosemary sprig to jar & muddle. Add 2 cups watermelon cubes; muddle, add ice and water.
For more health tips and to learn more about what you can do to better yourself, visitForrestGeneral.com.
Want to connect with us on Social media? Follow us on Facebook, Twitter, Instagram, and Pinterest!!