From Thanksgiving to Christmas, and all of the parties in between, you acquire quite the collection of leftovers. While leftovers can be delicious and practical, there is a fine line between savory and spoiled.
How long can I keep leftovers in the refrigerator?
Here are some guidelines for how long popular holiday items can be stored in the refrigerator before going bad:
Turkey, chicken or other poultry: 3 to 4 days
Ham: 3 to 4 days
Roast: 3 to 4 days
Vegetable soup or stew: 3 to 4 days
Salads: 3 to 5 days
Pumpkin pie: 2 to 3 days
Cheesecake: 3 to 7 days
Bread and rolls: 3 days
Gravy and meat broth: 1 to 2 days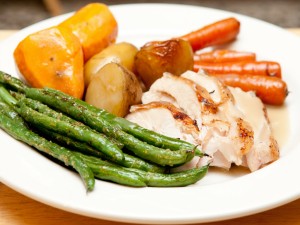 Most foods can be refrigerated to be enjoyed a time or two again, but watch how long the item has been sitting out. "Four hours is the max amount of time to be considered safe," said Jennifer Easley, Food and Nutrition Services Director at Forrest General Hospital.
When food items hit their expiration time in the refrigerator, they should be thrown out. Many items can be frozen and stored for several months if they are frozen right after they are initially cooked.
Proper preparation
Whether a food item is being consumed for the first time, or if it's on its final voyage from the Tupperware container to the microwave, it's important to make sure food is prepared completely and heated thoroughly.
"With the holiday season, we usually attend more parties or social get-togethers that feature food.  Hosting a party can be stressful. It is important to take your time in preparing the delicious seasonal traditions by cooking the food properly," said Easley. Proper preparation is the best way to avoid food-related illness during the holidays.
Makeover your leftovers
To make the most of your leftovers and avoid the mountain of turkey-filled Tupperware, turn them into other delicious meals. Use your leftover turkey and squash to make turkey and squash soup. And since everyone loves Thanksgiving dinner so much, carry it over into breakfast as turkey hash with fried eggs.
For more exciting healthy recipes, you can visit our Health & Wellness website, provided in partnership with Spirit of Women.